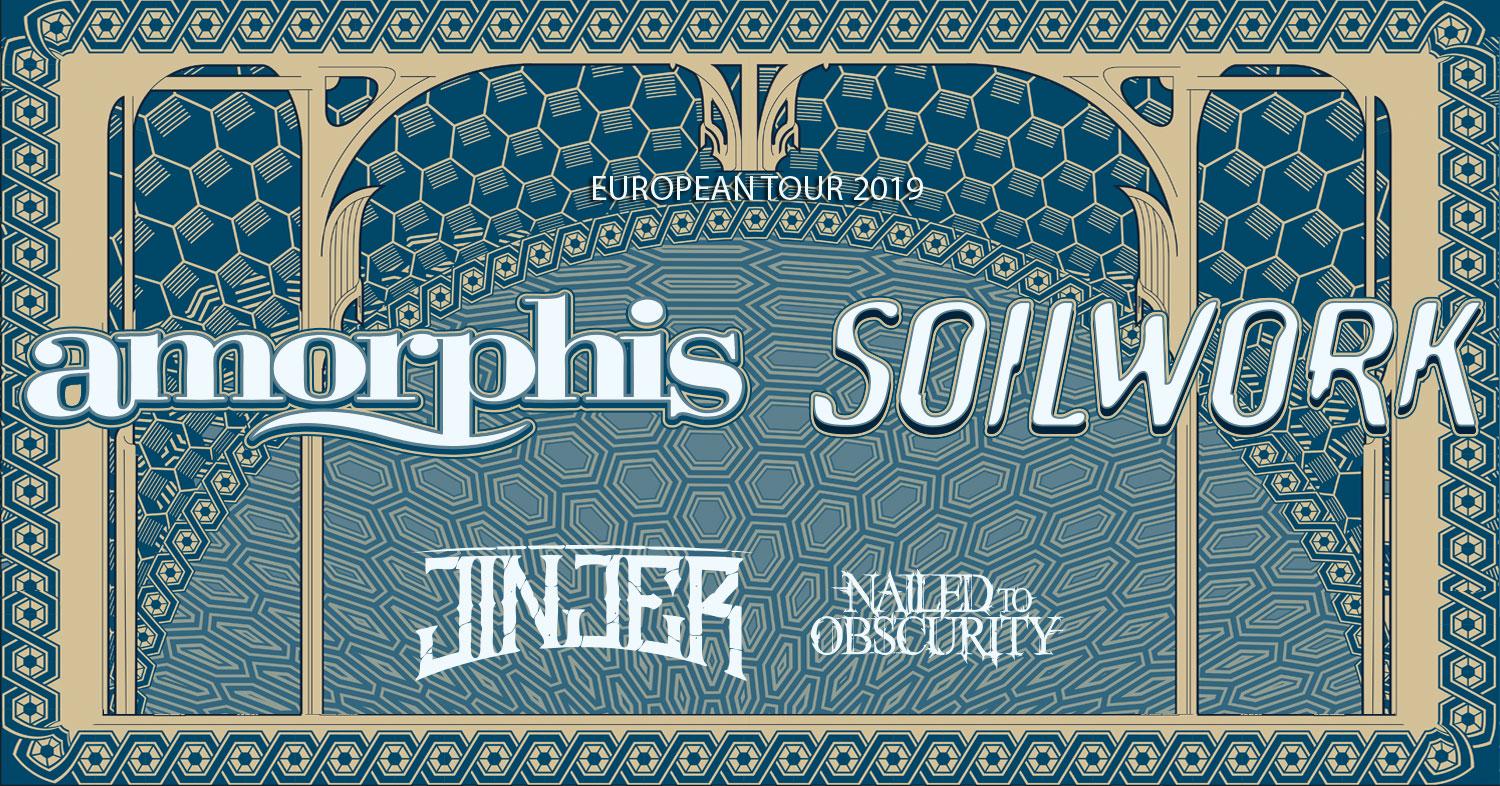 Ståpladser
200,- DKK + gebyr i forsalg
225,- DKK i døren
Køb billetter her (via Ticketmaster)… Eller på Café 5øren
De melankolske, finske prog-metallere Amorphis udgav i maj 2018 det meget ambitiøse og vellykkede album 'Queen of Time', der har taget metalverdenen med storm. Med det i ryggen tager Amorphis i starten af 2019 på en omfattende europaturne, side om side med Soilwork, som er ved at lægge sidste hånd på opfølgeren til 'The Ride Majestic' fra 2015.
Som om at disse to navne ikke var stærke nok i sig selv, så byder pakken også på ukrainske Jinjer og Nailed to Obscurity fra Tyskland, som begge også til vinter vil være klar med dugfrisk musik. Det bliver med andre ord vital omgang bredspektret, ny metal der bliver præsenteret i et nyistandsat og nyåbnet Amager Bio.
Amorphis' guitarist Esa Holopainen udtaler: "We can't wait to hit the European roads and take the AMORPHIS live production to the next level with the »Queen Of Time« tour. We are really happy to bring the mighty SOILWORK, JINJER and NAILED TO OBSCURITY to this tour as well. Get your tickets now, it's gonna be a blast from the past!"
Soilworks sanger Björn "Speed" Strid supplerer, "We are very excited about touring with AMORPHIS, as the first tour for our upcoming album. AMORPHIS have been my favorite Finnish band since I was a teenager, when »Tales From The Thousand Lakes« was my daily soundtrack. Both of the bands' unique take on metal, will create an epic cocktail, as we roll through Europe on tour together. It's about time, I can't wait!"
Om turneen siger Jinjer, "We are absolutely thrilled and honored to tour alongside two metal giants such as AMORPHIS and SOILWORK, it's almost too good to be true! We'll be bringing our A game and playing some new material as well. Europe, get ready because 2019 is going to get loud!"
… og NTO guitarist Jan-Ole Lamberti siger, "We can't wait to get back on the road again and we are very excited to be a part of this killer tour package. We are looking forward to seeing familiar faces at cities and venues that we've already played in the past, but also to meeting lots of new people at places and even countries we haven't been to yet. This is going to be great!"